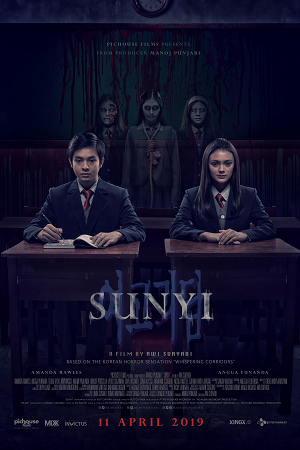 English -
Being accepted in Abdi Bangsa High School is something special for most students. But for Alex, being accepted there is nothing special, in fact its a disaster. The Culture of seniority at Abdi Bangsa High School is nothing but physical and mental violence - bullying, becomes Alex daily routine at school. Luckily, Alex has found Maggie, a junior student who becomes his best friend. Maggie makes life livable even in the unpleasant situation caused by the senior students. Creepy incidents and hauntings are nonstop after Andre, Erika and Fahri, force Alex to participate in a ritual to call the spirits. The favorite school becomes scary, creepy and deadly.
(In Indonesian with no subtitles)
Diterima di SMA unggulan Abdi Bangsa merupakan impian setiap siswa. Namun bagi Alex, diterima masuk SMA tersebut bukanlah sebuah karunia, melainkan petaka. Budaya senioritas, tindakan kekerasan pada fisik dan mental bullying, telah menjadi "menu" harian Alex di sekolah ternama itu. Beruntung, Alex punya Maggie, sesama murid kelas satu yang menjadi sahabatnya. Maggie-lah yang membuatnya bertahan menghadapi situasi yang tidak menyenangkan dari para seniornya. Kejadian mengerikanpun menghantui para siswa setelah Andre, Erika, dan Fahri, memaksa Alex melakukan ritual pemanggilan arwah. Satu persatu nyawa melayang secara misterius dan mengerikan. Sekolah unggulan itupun berubah mencekam dan menakutkan.
Film
SUNYI
akan kembali tayang tanggal
11 April 2019 (COMING SOON)